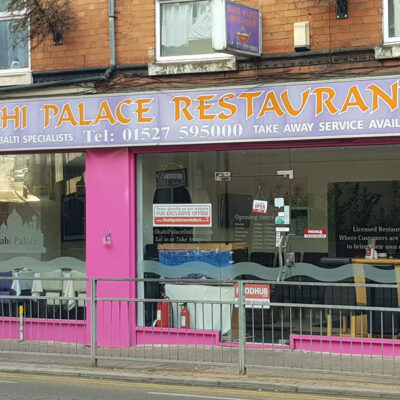 Shahi Palace review
Shahi palace has been a favourite of mine for a long time. We are always given a warm welcome by the staff.
Even though Shahi palace is licensed they still allow customers to take their own drinks which is a bonus.
Parking used to be great as the train car park is located behind and just 1 minute walk away but recently the train station introduced a new camera operated payment system so now if you park here you have to pay for parking. On the other side of the road you have known the kingfisher shopping centre and if you park in this food court / cinema car park after 6pm parking is free.
Food has always been good and we've never had any issues. I like the food here as I feel it's not as hot as many alternative restaurants.
Normally if I fancy a "Hot" curry then a madras is a good guide before my "heat" sensors go into overdrive but I once had a vindaloo here (It was extremely hot!! haha).
If I had to criticise Shahi Palace I believe the restaurant could maybe benefit from a lick of paint and a tidy up inside. It's not quite as clean as I'd like to see. Having said that I don't feel it's enough of an issue to be a problem.
Final thoughts
Having been a regular customer of Shahi Palace for many years I can vouch for the food and the service.
It's not a 5* venue but it's still been one of my go to restaurants and take away's for a long time.
No frills and good value for money.