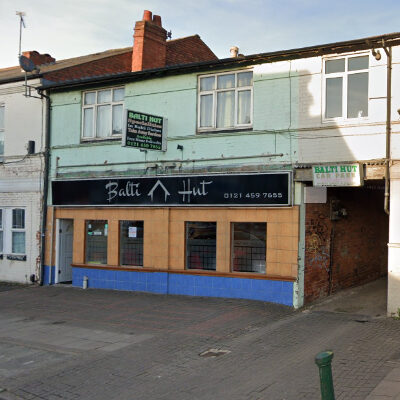 The Balti Hut in Stirchley was previously known as Balti Hut Tandoori.
The Balti Hut is located at the top of Pershore Road in Stirchley and has it's own car park. Even though I've been to the Balti Hut plenty of times I've still never parked in the car park. You can see in the picture the entrance is very narrow. There is plenty of car parking on the main road. We generally park just up from the restaurant in the tyre garage (ATS- Euromaster) car park.
As I mentioned, I've been to this restaurant many times, In fact this restaurant was featured in the original Balti Guide website almost 20 years ago. This restaurant in my opinion has always been one of the best Chicken Tikka Masalla dishes I've ever had. For years it didn't matter where I went to no other restaurant come close to the CTM served up in the Balti Hut.
Because Balti Hut was always one of my favourite go to balti restaurants when living in Birmingham and we was celebrating a family Birthday it seemed an obvious choice to kick start our very first review back down memory lane.
So our first review back started with a large group of more than 30 out to celebrate a 70th Birthday.
The service was a bit slow but trying to serve over 30 in a single group when other diners are trying to order is not always going to be an easy task.
The tables were split into smaller groups to make it easier for the kitchen to bring out the meals together for each table. Unfortunately doing it this way meant the last few tables had to wait a long time for food and the first tables had finished by the time their food had arrived.
The food we fresh and hot. I ordered a Chicken Tikka Balti with a chicken tikka naan.
Diners on my table had a vegetable biryani, chicken tikka masalla and a vegetable korma.
I sampled the biryani and was impressed with the flavour. No complaints from anyone on any of the tables and over 30 of us went home satisfied.
Service was a bit strange, we had a Birthday cake as a surprise which we left with the staff. At the end when it was time to bring the cake out as most restaurants do I expected them to bring over the cake but they just left it on the side for us to sort out ourselves.
The Balti Hut does not have a license. It is BYOD (Bring your own drinks) so helps keep the final bill down.
Final Thoughts
Balti Hut for me still provides good food and service and value for money.
I would recommend this restaurant and would definitely go back.